by Jeni Adamson, Policy and Partnerships Co-ordinator, LANTRA
March 2019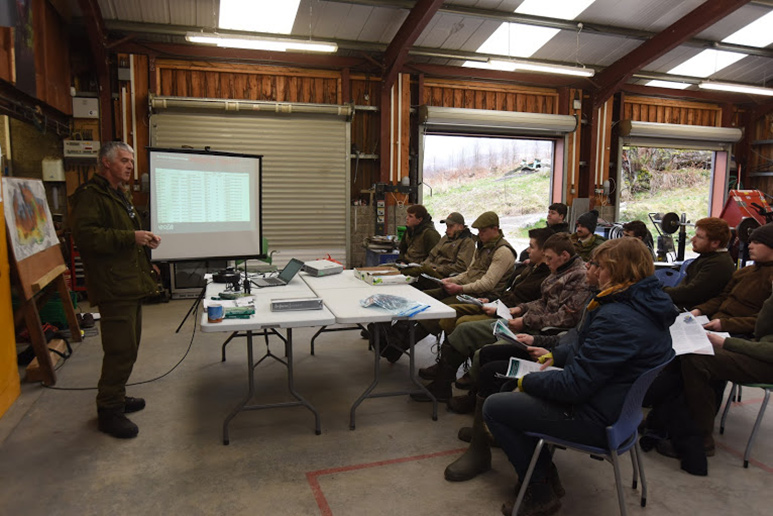 I recently joined students from Borders College, North Highland College UHI and SRUC Elmwood at Creag Meagaidh National Nature Reserve for a Wild Deer Best Practice Day organised by SNH. The objective was to provide a field-based event with access to facilities, processes and techniques that students would be expected to use in a work environment, while promoting the use of best practice methods. The day was split into sessions on habitat impact assessments, carcass handling, firearms and ballistics and, with best practice techniques encouraging high standards in food safety, animal welfare and environment sustainability.
Habitat Impact Assessment – Sinclair Coghill and Holly Deary of SHN demonstrated the importance of habitat monitoring in informing deer management practices. The whole group started indoors with Sinclair going over the mapping of HIA sites using GPS devices or data from a smartphone. We were then split into smaller groups and moved outdoors, being shown how to perform an assessment on different habitat types, from planning, measuring and recording data, to the importance of analysis and interpreting data over time to see what any changes mean in relation to the objectives for the habitat.
Carcass Handling – Iain Hope and Jack Ward of SNH led discussions and demonstrations on bringing a carcass from a hill and the lardering of deer. We were able to examine mechanical extraction (using an Argocat vs an ATV), manual extraction, and it was fantastic to hear from one of the students based on Rùm who uses pony extraction on her site. We also discussed the pros and cons of removing carcasses from a hill against leaving them in situ. We then moved down to the larder, where students were able to show their interpretation of processes, and Iain was able to give them feedback and suggestions to minimise risk of contamination and produce a well-presented carcass. Iain also discussed best practice for the disposal of waste arising from carcass preparation.
Firearms and Ballistics – the session began with Jim Govan, formerly of Police Scotland, who gave us a presentation on the anatomy of deer and importance of shot placement, the consequence of bullet damage and how different bullets behave on impact, with ballistic gel simulating the effects on a carcass.
We then moved on to the range under the direction of Jimmy Irvine from SNH. Thanks to the tutoring skills of Ali Cameron and Bobby Innes (FES), I was delighted to find that all my shots made it onto the target!
The event was of real relevance to the students and complemented their courses – it offered SNH a great opportunity to put forward best practice principals of land management to these new entrants to the industry. I particularly enjoyed the opportunity to meet with college staff and students to learn more about their experiences in qualification delivery. Many thanks to all from SNH and the other organisations involved in the delivery of the day's programme.